Testimonials & Reviews for LOSING AMERICA
Helm's writing is "riveting and thought provoking." If you care about our nation's future, this is an informative and must read.
The Seattle Times
Don't Vote until you read this book!
Jane Begala, author, Democracy; an Illusion
The long winding road that's America's economy has just been made more clear and straight by Lehmann's book
Montreal Gazette
Awesome! Thought provoking, indeed!
Jeffery Dickerson, Renowned Trial Litigator
Captures the people and events that are continuing to erode the middle class!
The Austin Statesman
If you want to understand how middle class America lost 1/2 it's wealth between 1998 through 2012, read this book. Lehmann captures the events in plain speak and humorous examples. A great read.
Michelle Lindeman, former hedge fund manager, Merrill Lynch
Helm's book tells the real story of how greedy leaders in government and business are ruining the nation. He ties events together from the mid-1990s through the present; broadens our knowledge of the political process and rampant corporate greed, then offers hope in the form of new ideas to rebuild our future. Great read!
Boomers Failing America, Org
If you think the Wall Street and Bank Bailouts were obscene or want to know why our economy is still reeling from the housing "crash" - you'll love this book. Lehmann describes the people behind the scenes and how they manipulated Congress, the Clinton, Bush and Obama administrations and the mass media to engineer the largest Ponzi scheme in world history.
This book connects the hidden and visible dots and is the layperson's guide to why Americans are losing jobs, homes and their quality of life.
Lehmann turns data into easy-to-understand information, pulls no punches and makes use of creative political cartoons for timely respites. Most importantly - he offers plans and solutions for how we can recapture America.
Quentin Tomassi, Author "How Wall Street is Strangling Our Federal Political Processes"
Reader reviews and media reviews will be added as they come in.
Lehmann is a former Regional Director for Asia and the Americas, accountable for $19 BILLION in annual contract & revenue management.
He has Graduate Degrees in Finance, Business Strategy and Public Policy from Texas and is nationally recognized for his leadership expertise in both the Public and Private sectors.
This is his second book.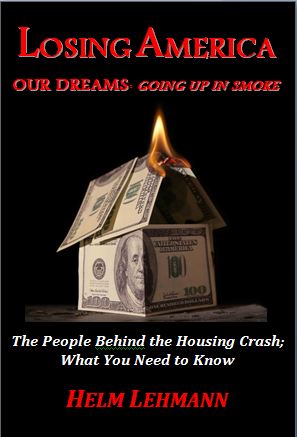 Other Books by Helm Lehmann
Six Leadership Strategies for the New Rules of the Road, 1999
A finalist for best non-fiction Book Award, 1999 Washington Book Awards
"This book is loaded with suggestions of the kind managers are looking for. An easy, comfortable read full of supportive ideas; take this book out for a test drive."
Geoff Bellman, author, Your Signature Path,
Getting Things Done When You Are Not In Charge,
In The Belly of the Beast
"A practical and sound survivor's manual for life in today's organization world. What I like best are the questions Mr. Lehmann offers for self-appraisal. This is a book that invites the reader to participate and challenge his or her status quo."
Gary Jusela, Ph. D. Senior Director, The Boeing Company